Consumer Groups discuss ways and means
of making the Regulatory Process effective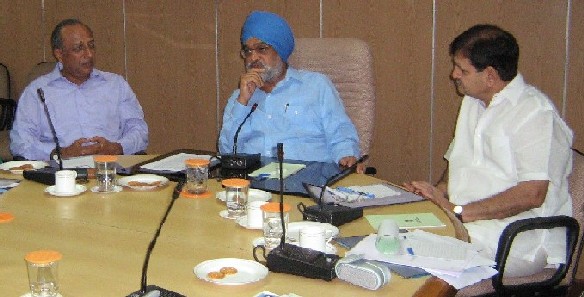 During the discussion, Sri Montek Singh Alhluwalia, Dy. Chairman, Planning Commissioner flanked by Sri Gajendra Haldia, Advisor to him (to his left) & Sri Arun Kumar, Director, CCC, New Delhi (to his right).
With the economic liberalisation initiated in the 1990s, the state has begun to vacate some of the commanding heights of the economy, where state responsibility for provision of services was synanymous with state ownership. The new approach provides for public, private partnerships in providing infrastructural services with extensive state regulation for safeguarding user interest. Already the country has witnessed liberalisation of the electricity sector in several major states and the telecom sector. There has been a big experience in both these sectors. While the experience in the electricity sector has been far from enthusing due to the highly subsidised tariff witnessed in the past, the essentiality of the service to all the cross section of the population and the lack of enthusiasm to address the real isuues by all concerned, etc. The experience in respect of the telecom sector had been quite different.
In this context Planning Commisson, Govt. of India had prepared a consultation paper on "Approach to Regulation of Infrastructure : Isuues & Options".
With a view to seek comments of consumer organisation on the paper a meeting was organised on 4th June 07 at the Yojana Bhawan, New Delhi. Sri Montek Singh Ahluwalia, Dy. Chairmen of the Planning Commission participated in the discussions. Handful of select Consumer Organisation participated in the discussions.
Some of the major apprehensions which were expressed by the consumer organisation during the discussion include:

Multisectoral approach tried in telecom sector is not suitable. Separate regulators for telecom, cable TV, Mobile phone will be effective in delivering the results.
Without political will the regulatory process will fail. One of the reasons for the electricity reforms not being successful in many of the states is because the regulator doubles up as a Govt. functionary and moderates the tariff as the lagislature would want him to. So it is essential that the government not only keepps away from the regulatory process but encourages it to be independent in all decisions..
Bureaucrats should not be appointed as Chairman of regulatory bodies.
The regulatory mechanism should provide for sufficient funds for consumer advocacy groups which contribute to the regulatory process.
Sufficient provision should be there to hear the consumer view points.

Select consumers organisations which participated in the discussions include Consumer Protection Council-Rourkela, Voice- New Delhi, CUTS-Jaipur, CERC- Ahmedabad, CAG-Chennai, FCAWB-Kolkata, CAI- Chennai, CPA-Tripura and RARE, Sonpur.